Sunday morning was the last time I received a full night's sleep. On Monday morning, November 14th, 2022 I was woken up at 8 am sharp by passionate chants and cheering horns when the largest higher education academic strike in US history began. Roughly 48,000 workers across the 10 UC campuses began their fight for fair wages, equity for international students, free transit, support for workers with children, and more so that they can ensure a quality education for everyone (The Washington Post). As I am writing this statement, I'm also chanting along in my head with the workers striking whom I hear outside of my Berkeley apartment window, "What's disgusting?, union busting!" and "What's outrageous?, poverty wages!". I would usually be at work right now but because my job is on-campus, I don't feel comfortable crossing the picket line. Besides the fact that these protesting workers are surrounding campus entrances, with the spirit of justice filling the Berkeley air, it would feel morally wrong to go against their fight for basic livable conditions, especially as a UC employee myself.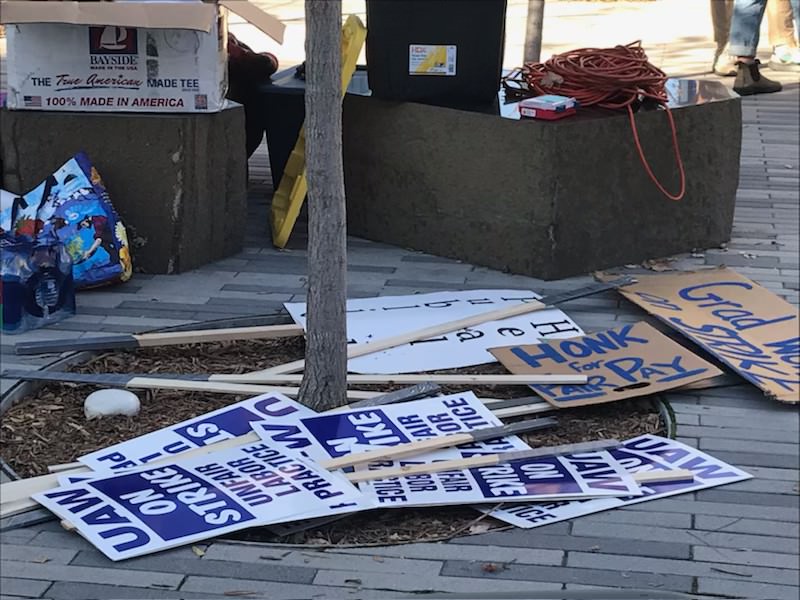 Even living in an off-campus apartment away from the infamous Sproul Plaza, the Student Union, and the hub of activity on the Southside of the UC Berkeley campus, I am still immersed in the fight for fair labor practices from my bedroom. The entire community has become a part of this fight and not more than a couple of minutes go by between the honks of cars in support of the strike and after each honk follows a loud hopeful cheer from those on the picket line. Everybody I interact with virtually from my room over the last few days also subsequently learns about the strike's impact because they can hear it through my headphones which I have to adjust with noise-canceling features just so that I can engage in my meetings properly. The passion is exciting and still, after 5 long days of striking, the energy has not dissipated. The requests from these workers are no joke and the lack of fair compromise from the UC system is not up for debate. Having a livable wage to ensure that you do not fall below the poverty line and to make sure you don't have to skip a meal is not something that should need to be bargained for. This is a basic human right and something we not only should all have the right to expect from our employers, but also it is something we all desperately need to survive.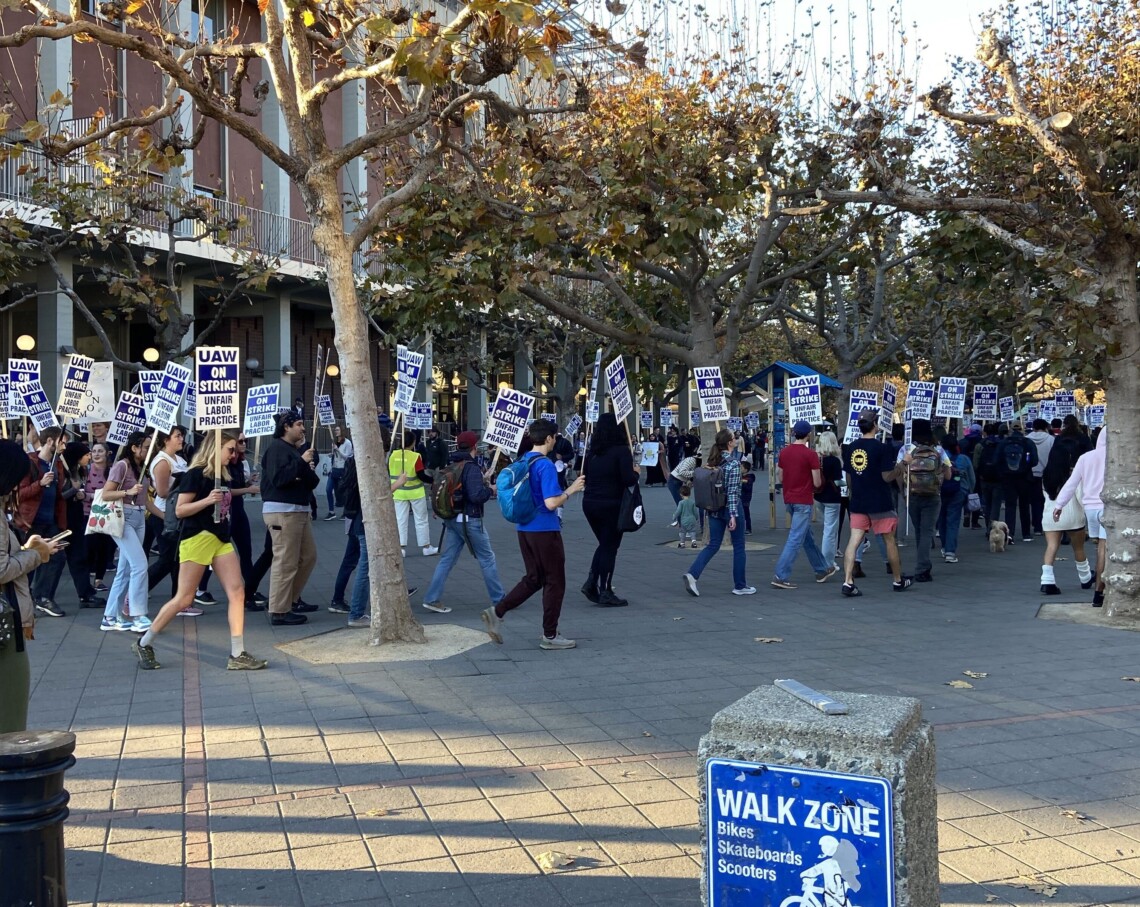 Last Tuesday on November 15th, I was able to strategically take the AC Transit bus around the perimeter of campus to the Southside in order to avoid crossing the picket line and I joined the strike at one of the hubs in front of the UC Berkeley School of Law building. The atmosphere was inspiring and despite being under such uncertain financial conditions, the workers protesting were welcoming and kind to anyone down to support the cause. They had music playing, friendly dogs to pet, food cooking on a grill, and plenty of signs and chants for anyone to join in on. I joined the line and walked around the chant leader while we all screamed "UC, UC, you can't hide, we can see your greedy side." The feeling of being united by all kinds of people felt so powerful and I do not doubt that the workers will keep fighting until their demands are rightfully met.
From my perspective as an undergraduate at UC Berkeley, my peers have shown nothing but full support for the strike. Days before the protest started, my friends were already posting infographics on their Instagram stories and now at the height of the strike, my Instagram feed is flooded with information on the strike to the point that there is no way to miss it if you are engaging with social media in any capacity. My peers have invited me to come to the picket line, sign petitions, send emails to professors, and join rallies in support of the workers. The students have also been willing and happy to make sacrifices for the cause. For example, countless clubs, including meetings I facilitate, are canceling their meetings and making them virtual (even after striking hours). Thankfully, I have not had any need to go to campus this entire week because of the overwhelming support of the strike and accommodations/flexibility from the campus community. My professors with in-person classes have halted all instruction until the strike is over or even moved our classes to the picket line, knowing what backlash they may face and also recognizing how this may harm our education as students. And even my professors teaching online classes are talking about the strike and its importance to make sure we are not dismissing the workers' struggles.
I had the privilege of hearing firsthand from my own GSI (Graduate Student Instructor) about the conditions of the strike weeks before it even began. At the strike, I was able to find my GSI at the picket line and asked him a few questions about his experiences. Because of exhaustion from chanting, his voice was tired but he was clearly sacrificing so much more than his own health and wellbeing. When asked what sacrifices he had to make to participate in this strike, my GSI informed me, "I love teaching and I think that education is something that is really important and the reason that we are doing this is because our labor conditions are everybody's learning conditions and we just want to make sure that is the case so that we can make education better for everybody." I followed up by trying to understand his perspective on the impact on the undergraduate students that he teaches and he replied, "From what I've seen, I've seen a lot of support from undergrads and I've seen people I teach on the picket line and I've seen a lot of undergraduate workers campaigning for their own rights. We are also trying to increase the pay of undergraduate workers so I think it's been great to have that support." This testimony is why the support from everybody is so important because nobody is unaffected and the quicker we realize this and use our numbers to our advantage, the better chance that we have at a speedier resolution to the issue at hand.
The other morning at around 9 am, one of my neighbors shouted towards the protestors from their window "Shut Up!," and although I feel their frustration of not getting a full 8 hours of much-needed sleep, their response, and also the response from many others, is tone deaf and this feeling of resentment should be redirected towards the university. This is a reminder to myself and everybody else affected by the strike that we should be using our energy to fight against the University's attempt at getting away with unfair labor contracts so that an equitable agreement can be made which would result in improving the lives of thousands. As most of us consider ourselves workers, we are all in this fight together and I stand in solidarity with the academic workers of the University of California.
For more information about the strike and to explore ways to get involved please visit: https://www.fairucnow.org/support/
Wesley Veiga, He/Him
University of California, Berkeley
3rd Year Undergraduate, Sociology and Education